PhD Hoops Announces Coaching Staffs and Teams for 2023 Euro Youth Basketball Cup Tour
LOS ANGELES, CA – April 22, 2023 – PhD Hoops announces the teams, coaches and players who will represent the USA in the U18 Boys Basketball division at the Euro Youth Basketball Cup. Both teams will be on tour from June 12-20, 2023 traveling to Spain while competing at the EYBC, one of the most competitive basketball tournaments in all of Europe! The group will experience both high-level basketball and cultural sightseeing before and after the event.
PhD Hoops USA RED (U18 Boys Team)
HEAD COACH: Matt O'Brien (Winfield, KS)
ASSISTANT COACH: Ruben Leyva (Fort Stockton, TX)
PLAYERS
Zach Bingham (USAFB, Okinawa, Japan)
Shaivion Warren (Taylor, TX)
Ben Hughston (Dallas, TX)
Izaiah Feliciano (Woodstock, GA)
Evan Thomas (Miami, OK)
Carter Sterk (Colorado Springs, CO)
Pryce Wyatt (Timath, CO)
Edwin Speegle (Lubbock, TX)
Andrew Serrano (Grand Junction, CO)
Coach Matt O'Brien, Head Coach (Winfield, KS) has proven to be one of the best college coaches in the nation. Currently, he is the Head Men's Basketball Coach at Southwestern College (KS) and is the all-time winningest coach in program history. He has coached Southwestern to 14 straight winning seasons, 20+ win seasons in 8 of the last 9 years, 5 straight conference tournament championships games and numerous National Tournament appearances. In 2019, Coach O'Brien was awarded the Kansas Basketball Coaches College Coach of the Year. He has coached numerous All-Americans and is 11-2 overall when coaching on international tours representing the USA. He graduated from Friends University with both a Bachelor's Degree in Physical Education and a Master's Degree in Management.
Coach Ruben Leyva, Trip Leader & Assistant Coach (Fort Stockton, TX), has spent a lifetime making an impact as a coach and teacher in his hometown community. As a former physical education teacher and head coach, he currently serves as a personal trainer in his private gym and training facility, TTA Sports. He possesses nearly ten certifications in a variety of areas pertaining to coaching or training and has coached multiple sports over the past two decades. He has established himself as a coach who demands discipline, hard work, respect, high integrity and great character. Coach Leyva graduated from the University of Texas of the Permian Basin with a Bachelor's Degree in Kinesiology.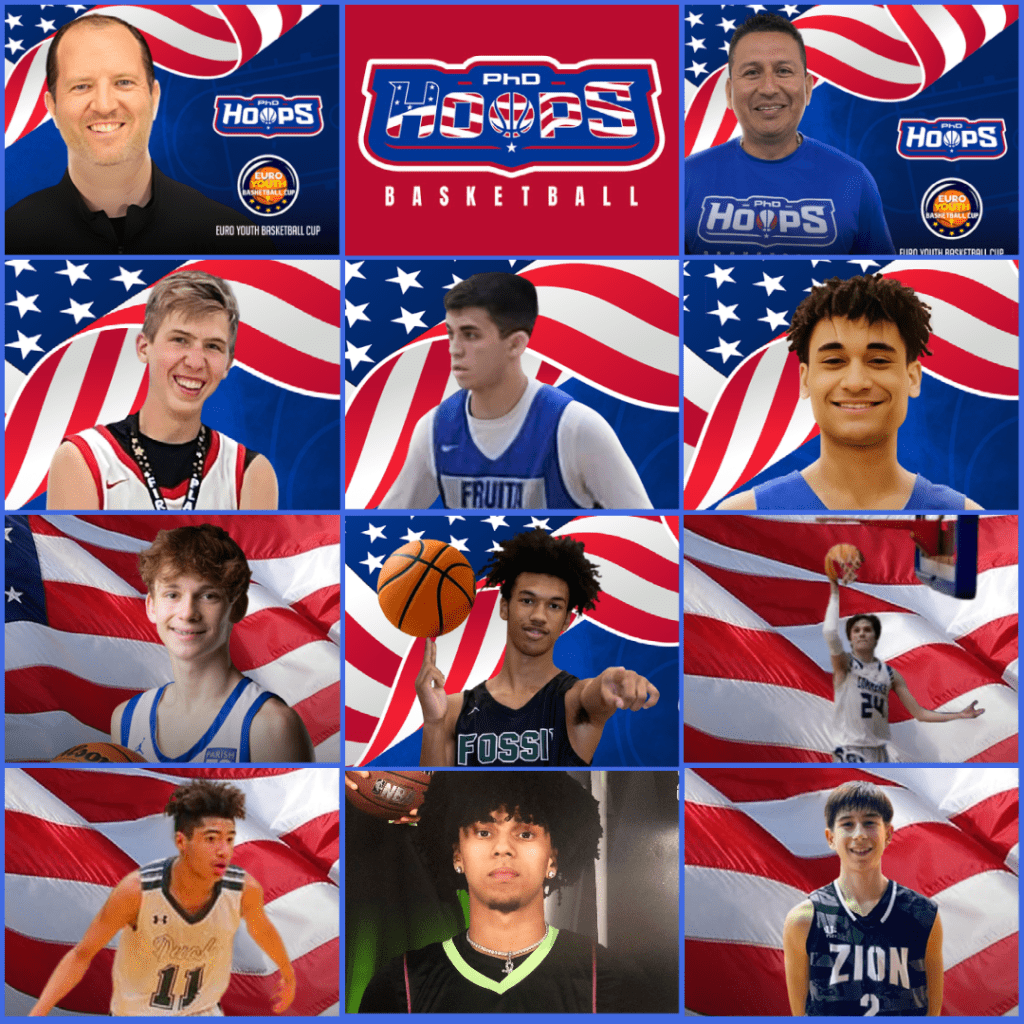 PhD Hoops USA BLUE (U18 Boys Team)
HEAD COACH: Aaron Denton (Littleton, NC)
ASSISTANT COACH: Rob Fry (Enterprise, AL)
PLAYERS
Zach Sun (Harrisburg, PA)
Rich Garcia (Flagstaff, AZ)
Isaiah Berg (Tucson, AZ)
Michael Amador (Port Murray, NJ)
Romeo Montes (Cerro Gordo, IL)
Michael Downing (Rolesville, NC)
Domenic Jutting (Ocheyedan, IA)
Roman Evans (Grand Canyon, AZ)
Gerren Chester II (Dallas, TX)
Coach Aaron Denton, Head Coach (Littleton, NC), has been actively involved in the college basketball world for his entire adult life. After a successful career as both a player and coach, he currently serves as the Director of Athletics at North Carolina Wesleyan University (NCAA III). Previously, he was the Athletic Director at Sandhills Community College (NJCAA III), while simultaneously building a national powerhouse as the Head Men's Basketball Coach, and Head Coach at nationally-ranked Louisburg College. Denton also served as Assistant Coach at Miami Dade College, Guilford College and UNC Greensboro. He earned his Bachelor's Degree in Management from Guilford College and his MBA from UNC Greensboro while working under Coach Fran McCaffery (currently the Head Men's Basketball Coach at Iowa).
Coach Rob Fry, Assistant Coach (Enterprise, AL), has spent nearly two decades coaching basketball, mostly as Head Coach and Program Director for both the Grand Park Premier (IN) and Arizona Premier (AZ). Additionally, he has served as the Head Girls Basketball Coach at Catalina High School in Tucson, Arizona. Coach Fry takes great pride in having assisted over 100 players achieve their goal of receiving a basketball scholarship, many of whom have gone on to play professionally in either the NBA or WNBA. He earned his Bachelor's Degree in Psychology while playing collegiately at Western Michigan University, followed by a short stint playing in the United States Basketball League (USBL).