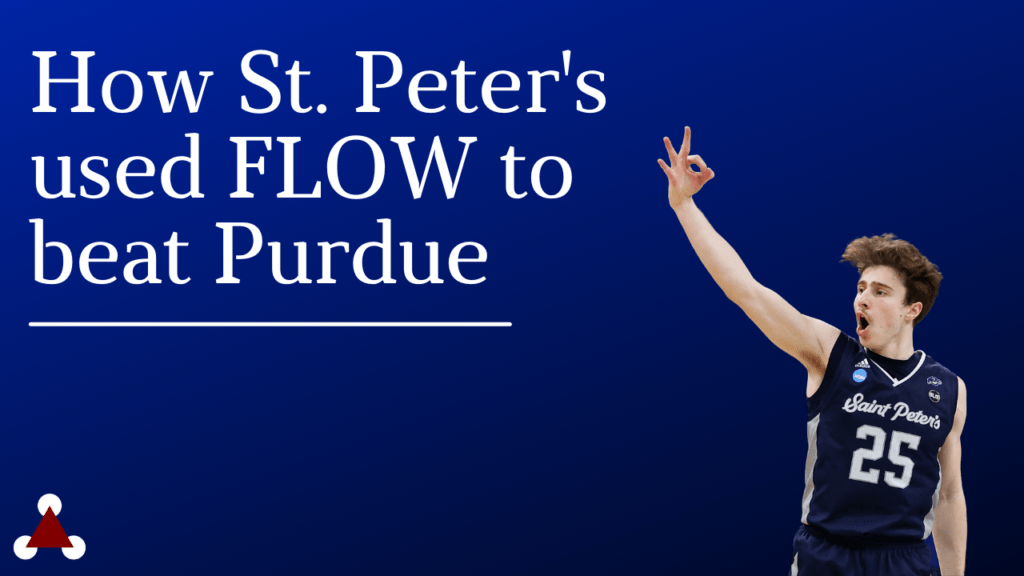 (This was reposted with permission by Arete Hoops)
On March 25th, 2022, Saint Peter's played Purdue. They made history by becoming the first 15-seed in the NCAA Tournament to make the Elite Eight.
They used FLOW continuity ball screen offense to neutralize Purdue's size and athleticism.
BEFORE we get to the FLOW breakdown. As I watched the game, a couple of things stood out…
There is no substitute for a team that believes in themselves and that plays the game without fear.

Poise and pace are the secret sauce to offensive basketball. Saint Peter's had both.

Saint Peter's competitiveness, pressure, and athleticism evened the game defensively against a bigger Purdue team. They pushed them out on all their sets.

Shaheen Holloway used elements of FLOW, Princeton, and Mover-blocker, and Circle Motion to pick apart Purdue on offense.

Every single Saint Peter's player played with their head up and saw the whole floor. They don't miss open guys.

Saint Peter's had 10-15 deflections on defense. Their activity changed the game.

You know a connected team when you see it. Every dead ball and timeout, Saint Peter's huddled up. Guys were actively coaching each other on the floor and during stoppages. They loved getting a teammate an open look.

There was a toughness about the team that was hard to explain. Not a fake tough, but a real toughness that was contagious. They made big shots, got stops, and grabbed rebounds when it mattered most.
How FLOW Helped Saint Peter's Make History
1. BUDDY BALL INTERIOR PASSING
Purdue's drop coverage was exposed all night long against the interior passing of the Peacocks. High level decisions from the bigs for 40 min. The interior automatics, cutting, and decision-making of the Peacock bigs was at a high level and neutralized the size of Purdue for 40min.
2. FLARE AND PING SCREENING ACTION
The position of your trigger men in FLOW makes defenses susceptible to blind screening action. St. Peter's used their opposite big to set flares for shooters on the weakside of the floor. Also, Shaheen Holloway with elite play sequencing. The ping action for shooters using off-ball screening action was a great change of pace to their normal FLOW. As the game went on Saint Peter's went to more off-ball counters after Purdue became worried about the primary PNR player making plays.
3. SCORING OUT OF ISOS
Although there weren't a ton of designed ISOs, the pattern and spacing of FLOW gave Saint Peter's 4-man a ton of spacing to attack off the dribble in the middle third of the floor. Saint Peters exposed Purdue's PNR defense with their 4-man all night long. There was rarely a time when Saint Peter's attacked the rim and didn't get a good shot. They neutralized Purdue's size and athleticism with fundamentals and decision-making. So so impressive.
4. BALL SCREEN ANGLES
Purdue tried to ICE Saint Peter's ball screens by keeping them on one side of the floor. When FLOW did break down or the Peacocks needed to make a play at the end of the clock, Saint Peter's PNR fundamentals were on point. Effective ball screen chemistry involves not only the ball-handler and the screener but the spacing of the other 3 players on the court. The entire team new was a well-oiled machine in the biggest moments of the game.
Learn More About: FLOW Ball Screen Continuity
WHAT YOU GET:
Best Selling Ball Screen Continuity Playbook (40+pages)
Hundreds of Live-Play Video Examples
Film Breakdown and Chalk Talk Sessions
Terminology and Teaching Progressions
Quick Hitters and Counters
Hours and hours of teaching videos
Case studies of successful college teams that run FLOW continuity
Breakdown drills
Skill development scoring progressions
A FREE BONUS PDF playbook on how to build AUTOMATICS into your offense